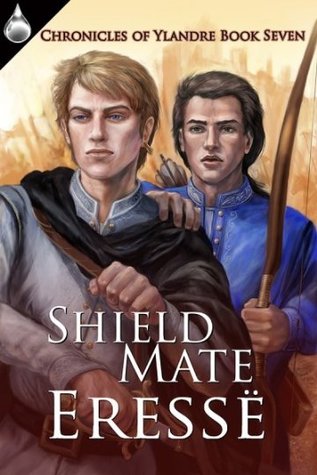 Shield Mate (Chronicles of Ylandre #7) by Eressë 5*
BLURB: The respect of many pales beside the regard of one who matters above all else.
Ranael knew his obligations to family and society. As a scion of Ylandre's most powerful House, he was destined for a life of service, albeit a privileged one. As the son of a wealthy fief-lord, he was supposed to bed or wed as befitted his station. With obedience to authority ingrained in him since childhood, Ranael hewed closely to what was expected of a royal-blooded aristocrat and a military officer. Thus, defiance of the strictures of his position never entered his mind. Until he came to covet Vaeren Henaz.
Vaeren did his duty to king and country despite attempts to put him in his place and keep him there. A survivor of neglect and frightful adversity before and after he fled the orphanage wherein he grew up, Vaeren refused to let his illegitimacy or lack of sufficient lineage stop him from fighting his way up the ranks of Ylandre's hidebound army. Nor did he allow anything or anyone to trample on his dignity or his heart. Until he learned to love Ranael Mesare.
In the dual-gendered realm of Ylandre, two warriors of nigh irreconcilably dissimilar backgrounds battle their way through the vagaries of military conventions, social censure, and personal vendettas. All while struggling with an attraction that contravenes the traditions and expectations that shape life and love in the world of Aisen's most powerful nation.
My Review:
This series was my introduction to mpreg stories and it's still the best of it's kind for me. I love how the world building and story lines explain how and why men get pregnant and how caste is an important factor not gender. However through all 7 books (with a fair few more to come which delights me) the caste system is put under scrutiny and change. This particular story had me first wanting to smack Ranael upside his head, then hug him in comfort and, at the same time, like him, I fell in love with Vaeren.
I don't want to give away to much above and beyond the blurb so I will just add that I loved meeting some of the old characters and seeing how their stories interacted with Ranael's and Vaeren's. If you like mpreg books or more especially
Eressë's Chronicles of Ylandre then you are going to like this book.