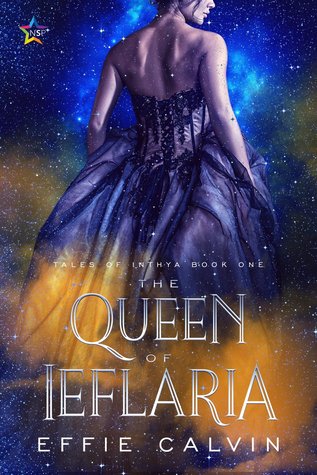 The Queen of Ieflaria (Tales of Inthya #1) by Effie Calvin
3*
BLURB:
Princess Esofi of Rhodia and Crown Prince Albion of Ieflaria have been betrothed since they were children but have never met. At age seventeen, Esofi's journey to Ieflaria is not for the wedding she always expected but instead to offer condolences on the death of her would-be husband.
But Ieflaria is desperately in need of help from Rhodia for their dragon problem, so Esofi is offered a new betrothal to Prince Albion's younger sister, the new Crown Princess Adale. But Adale has no plans of taking the throne, leaving Esofi with more to battle than fire-breathing beasts.
My Review: I received a copy in exchange for an honest review.
I enjoyed the fantasy aspects of this book but feel that some of the ideas needed to be extended further than they were. Maybe the second book will do that. The pan sexual characters being the norm was also a treat to read about, not often that an author can make it seem so normal. If you are reading this for the Lesbian romance then you won't go wrong, as that was well written and I loved the fact that it wasn't insta-love between them, but instead they took their time and the romance was nice, slow, and sweet. I honestly don't know why I didn't love it more, it even had the cutest kitten and other great fantasy creatures, but somehow it just missed that little something that would have made me feel more immersed in it. In fact my biggest problems with it was the God stuff that didn't really make a lot of difference and could have been left out and also, half the time, I wasn't sure about the pronunciations (especially the title!).