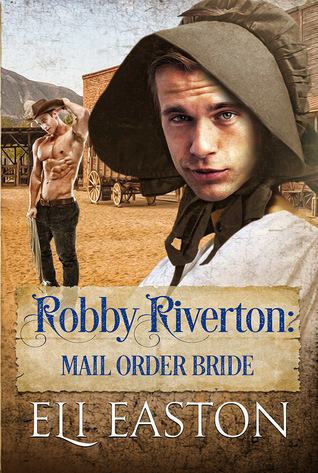 Robby Riverton: Mail Order Bride by Eli Easton
4*
BLURB:
Being a fugitive in the old west shouldn't be this much fun.
The year is 1860. Robby Riverton is a rising star on the New York stage. But he witnesses a murder by a famous crime boss and is forced to go on the run--all the way to Santa Fe. When he still hasn't ditched his pursuers, he disguises himself as a mail order bride he meets on the wagon train. Caught between gangsters that want to kill him, and the crazy, uncouth family of his "intended", Robby's only ally is a lazy sheriff who sees exactly who Robby is -- and can't resist him.
Trace Crabtree took the job as sheriff of Flat Bottom because there was never a thing going on. And then Robby Riverton showed up. Disguised as a woman. And betrothed to Trace's brother. If that wasn't complication enough, Trace had to find the man as appealing as blueberry pie. He urges Robby to stay undercover until the danger has passed. But a few weeks of having Robby-Rowena at the ranch, and the Crabtree family will never be the same again.
Damn, what a kerfuffle. If only Trace can get rid of the fugitive while hanging on to his own stupid heart.
My Review: I received an ARC from Signal Boost Promotions in exchange for an honest review.
I really enjoyed westerns as a teenager, and have often revisited that genre, so when I had the chance to read this M/M romance set in the old west I couldn't resist it. Turns out it was one of my better decisions as the book was a joy to read.
Robby jumped feet first into my heart as one of the best characters I've come across in a while and Trace was the perfect match for him. Without giving spoilers I really can't do credit to the book except to say it is the perfect blend of Wild West and Romance. In fact if you've ever read any of Eli Easton's
Howl At The Moon
series you already know what a great writer she is. You also know how she imbues her Characters with realism and eccentricities that make them a joy to read about, and this foray into the world of western romance is no different.